If you want to delete the contents of a usb stick or a flash disk that may have been filled with files of documents, music or videos and you want to format the usb so they can be filled again with new files that previously could not be loaded because the usb stick you full of . It is very easy to do in linux operating system like ubuntu, fedora, opensuse, mandriva, slackware etc. in this example I am using ubuntu distro 9.10 and usb stick sandisk 2 GB to be formatted.
To make formatting a usb stick in linux operating system please follow the instructions below:
1. Go to System> Administration> Partition Editor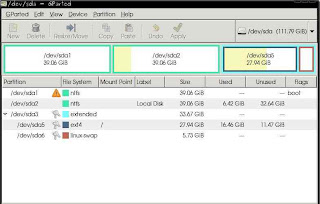 2. After entry into the Gparted Select Usb Stick that you want to format by clicking the arrow on the right.
3. Before We formats, we unmounted the usb before us by clicking the partition> unmount
4. After That partiton click> format to> FAT32
5. Wait Till The formatting process is finished and ready to use your usb stick.